President Trump Finally Said Russia Was Probably Behind The Poisoning Of A Former Spy In The UK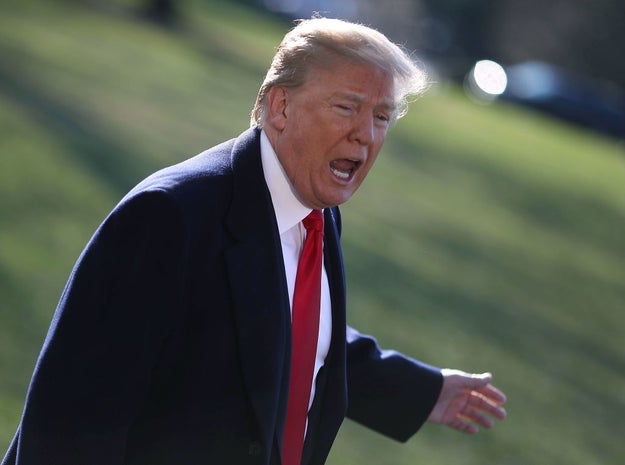 President Trump answers questions from the media after firing secretary of state Rex Tillerson on March 13, 2018, in Washington, DC.
Sky News
President Trump has suggested that Russia was behind the nerve agent attack on a former Russian spy in the UK, which has left him and his daughter in a critical but stable condition and sparked a massive diplomatic row between London and Moscow.
Speaking outside the White House on Tuesday, Trump said: "It sounds to me like it would be Russia based on all of the evidence they have."
He said he would speak to the British prime minister, Theresa May, later on Monday.
"I don't know if they've come to a conclusion, but she's calling me today. As you know, now we're going to the wall. We're going out to the wall and looking at the prototype, which is very important for our country," he said, struggling to be heard over the whirring blades of a helicopter.
"But Theresa May is going to be speaking to me today. It sounds to me like they believe it was Russia, and I would certainly take that finding as fact."
He added that as soon as the facts are confirmed, "we will condemn Russia or whoever it may be."
Trump's remarks came shortly after he announced the sacking of secretary of state Rex Tillerson, whose last major intervention in the job came on Monday evening when he said the chemical attack "clearly came from Russia" and would "certainly trigger a response."
That put Tillerson at odds with the official White House line. Earlier on Monday, White House press secretary Sarah Huckabee Sanders would not say if Russia was behind the attack, which she called "reckless, indiscriminate, and irresponsible."
Sergei Skripal, 66, and Yulia Skripal, 33, were found slumped on a bench on a street in the English city of Salisbury on Sunday 4 March. The prime minister told the House of Commons on Monday that either Russia was behind the attack or it lost control of the deadly nerve agent.
Source: Buzzfeed
President Trump Finally Said Russia Was Probably Behind The Poisoning Of A Former Spy In The UK