Trump Lets The Iran Deal Live — For Another Three Months At Least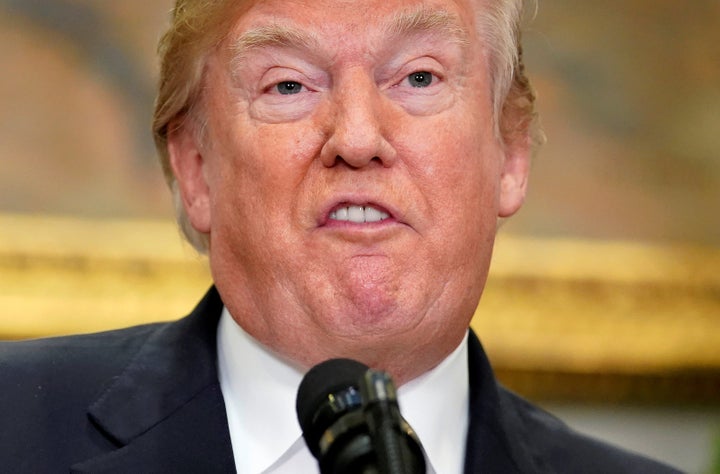 Joshua Roberts / Reuters
WASHINGTON — Donald Trump once again spared the Iran nuclear deal from certain death on Friday by extending sanctions relief to Tehran.
But the president also promised to scrap the landmark agreement in 120 days if Congress and European allies don't meet his new demands for strengthening the deal — throwing down the gauntlet on a signature achievement of Barack Obama's presidency.
"This is the last such waiver he will issue," a senior administration official told reporters on Friday.
The White House faced a series of deadlines related to the deal on Friday, most importantly, whether to renew or terminate a waiver for sanctions on Iran's central bank and energy sector. In 2015, the Obama administration and five other world powers agreed to waive some sanctions on Iran in exchange for restrictions on the country's nuclear program.
The International Atomic Energy Agency has said Iran is complying with the terms of the deal, but Trump has long called the agreement "the worst deal ever."
Whether the US and European partners will be able to agree on a supplemental deal by May that strengthens the nuclear agreement is far from clear. US officials said on Friday they want to see an agreement that re-imposes sanctions on Iran if it doesn't adhere to new inspections standards or begins advancing its nuclear program after certain restrictions in the original nuclear deal expire.
The decision to waive sanctions did not come easy, and required the urging of the president's top diplomatic and security advisers, Secretary of State Rex Tillerson and National Security Adviser H.R. McMaster, and America's top allies, including European diplomats who flew into Washington to reiterate their view that suspending sanctions was uncalled for because Iran was complying with the deal.
The fear among European allies is that ripping up the deal erases any incentive Tehran might have to keep restrictions in place on its nuclear program.
Despite the lopsided cohort in favor the deal, the president has continued to recoil at the prospect of extending sanctions to Iran given his personal animus toward the deal and campaign promise to rip up the international accord during his first term in office.
On Friday, Trump also approved new sanctions against Iranian officials and organizations, including Sadeq Larijani, the head of Iran's judiciary, and 13 other entities including the cyber unit of the Islamic Revolutionary Guard Corps. The administration accuses Larijani of being responsible for the violent crackdown on dissidents in Iran during recent protests.
Source: Buzzfeed
Trump Lets The Iran Deal Live — For Another Three Months At Least